I was blessed to spend last week at New Church Planter training sponsored by our New Church Ministries Office – they are doing amazing work supporting the birth of new congregations, even as they are seeking to support the transformation work of existing congregations. I thank God for Rick Morse and his team there, and for Ketty Santos, who is my trainer and supervisor in the
Barnabas Ministry
– providing coaching & support to DoC New Church Planters.
While traveling back, I met someone at the airport from the Santa Cruz area, and got his business card. Earlier today, I went searching for a DoC congregation in the area toward which to direct my new acquaintance. Steve – I had trouble finding a web presence for Garfield Park CC or Sanctuary CC, Santa Cruz – but, I did find the following photo –
Talk about a congregation being at the center of community life!!!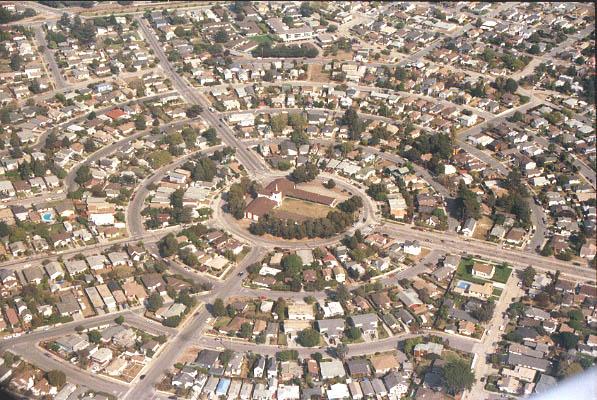 Here's some more info on how this came to pass –
http://www.santacruzpl.org/history/arch/gptaber.shtml
We've been thinking and talking lately here at Forest Grove about developing a sense of 'parish' – I like the UMC idea of a Shalom Zone.
This photo represents visually what the church should become emotionally and spiritually – a central hub for the community. I don't think that our campuses need to be community centers – though that may be exactly the thing in some locations. Gone are the days when the church was literally at the center of society. My guess is that in Santa Cruz many people circle that church without giving it much notice – through no fault of Steve and the folks with whom he serves.
One of the central focii for NCM is discerning and clarifying a vision for ministry. This then will develop into a Mission statement that describes who you will reach, where, and how, based upon the Vision, and some Core Values.
Never before have I seen an image like this, or a story of a DoC congregation who's campus was planned from the beginning to be at the center of a residential development. The Idea is also contained in new notions of church as/in "third space") This images challenges me, and I hope will challenge the congregation with whom I serve, and the New Church Planters that I am coaching, to think about the location where God has planted us, and dream about what it means to serve locally and create a zone of peace extending from our campus and impacting the lives of those near us.
May God bless us all as we seek His vision for the Kingdom where we live
Ken Crawford, Pastor
Forest Grove Christian Church